Would you wear a panty with your pastor's face on it? This might seem awkward on many different levels but funny enough, some ladies might be doing it out here.
A controversial pastor Thaddeus Mathews popularly known as the 'cussing pastor' is believed to have designed panties for his female congregants.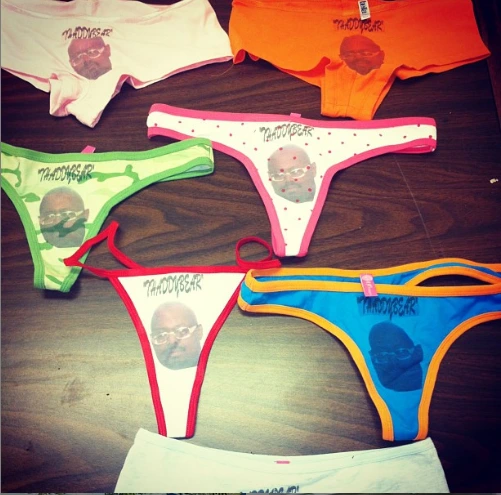 Through his Instagram page, the pastor shared photos of different panty types which all have a print of his face at the front side of the innerwear.
According to Mathews, he was considerate of all the body sizes of the women before he made the panties and he assured his followers that their sizes were available.
"Ladies get you some ThaddyBear underwear from a small to a 5X" he wrote in his post
In another post by the pastor, he captured an image of the same dirty panties which were being washed in a sink to prove that some ladies have been wearing them.
This move has triggered so many reactions from social media users who have criticized him for being inappropriate.
Other controversies that the pastor has been caught up in include allowing his female congregants to twerk in the church as well as publicly expressing his attraction towards thick women. Just like his name cussing pastor, Mathews also uses curse words to get the attention of many people.
The pastor serves under the Naked Truth Liberation and Empowerment Ministries and his church offers extreme freedom that is not provided in traditional churches.
Check out some of the reactions
@My girl wears a 6x sooo make bigger sizes G.
@king_ashton_reigns they need to stop it 😩😩😩😂
This the old thaddeus he use to fool 😂😀 @q_naves
@_brownskinmafia get u before they sellout 😂😂😂
I want mines
Welcome to my wORDpreSS. I am a Ghanaian who lives in Ghana and has a passion for Ghana, hence talks a lot about Ghana. I blog about entertainment, tourism, politics, arts, culture and football. I am in the media and have the advantage of working both in Accounting firms and I. T firms. I like divergent views so disagree with me but let's not abuse each other. Enjoy the blog while you are here, your views and topics are most welcome.